Beekeeping in the End Times is a place for storytelling bees in the context of ongoing, global and local ecological disasters. A companion to the book and the documentary film, this site gives an audio-visual record of ethnographic research, conducted across Bosnia and Herzegovina, since 2014. Sound recordings, photography, and cinematography convey the arts of beekeeping and of telling stories about and against the apocalypse.

The "end times" referred to here translates local terms, for example, pred kijamet, and loan words from the global, Islamic lexicon, such as ākhir al-zamān(آخر الزمان). The local beekeeping practices I documented through extreme weather events, disordered seasons, and across landscapes of environmental destruction and post-war remediation, are deeply informed by Islamic eschatology.
"Eschatology" refers to ultimate matters: one's death, the waning of the planet, the finitude of the cosmos. In writing and filming (always in good company of collaborators and friends) I strive to capture wisdom stories about meleki, or angels, who regularly ask after bees, an indicator species of the world's uncertain future; about mischievous jinn, the earthly though invisible companion species to humans in ravaged environments; and about various kinds of eco-actors, including not just beekeepers and gardeners but also insects, among other animals, and Sufis, God's good friends.
Not least, I have collaged cautionary tales from Islamic thought about the Devil himself: about how his "pride, madness, and poetry," work through technical expertise as much as occult channels, in order to bring the Earth to ruin, to present heaven as hell, and to paint hellish climate futures as visions of salvation. All along, I document how local beekeepers and bee-lovers, many imams and some Sufis among them, think about human species' ecological responsibility. Similar questions preoccupy global and secular eco-thinkers, not least those who speculate about a coming "world without bees."
Chapter previews, video essays, and footage from the emergent film ought to make it clear that Beekeeping in the End Times is not just a study of local cosmologies. Rather, the project attempts to think about the relationships between apicultural, scientific, and religious practices. The stories told in multiple media weave together Islamic and secular metaphysics―theories of what exists, how, and why ―while suggesting that beekeeping anywhere on our battered planet, is beekeeping in the end times. Ecology now can hardly be practiced with limitless optimism; eschatological weariness may be long overdue. This project cups a hand behind the ear and asks, can we hear the stories of doom? Can we plant a tree on the eve of Apocalypse?
Our Village Apiary,
March 29, 2021
Spring came to our mountain--for the third time this year. Since January, Spring and Winter cues have rapidly alternated and sometimes blended. Air temperature would swing between -5 °C and +15 °C within a matter of days. The winter passed by mostly dry but late snow storms buried our village through the first days of Spring. Forest and meadow flowers came out as early as February. So did the Cornelian cherry and hazelnut catkins. These early and precious sources of nectar and pollen for bees shriveled up and browned quickly under the cover of late snow and frost.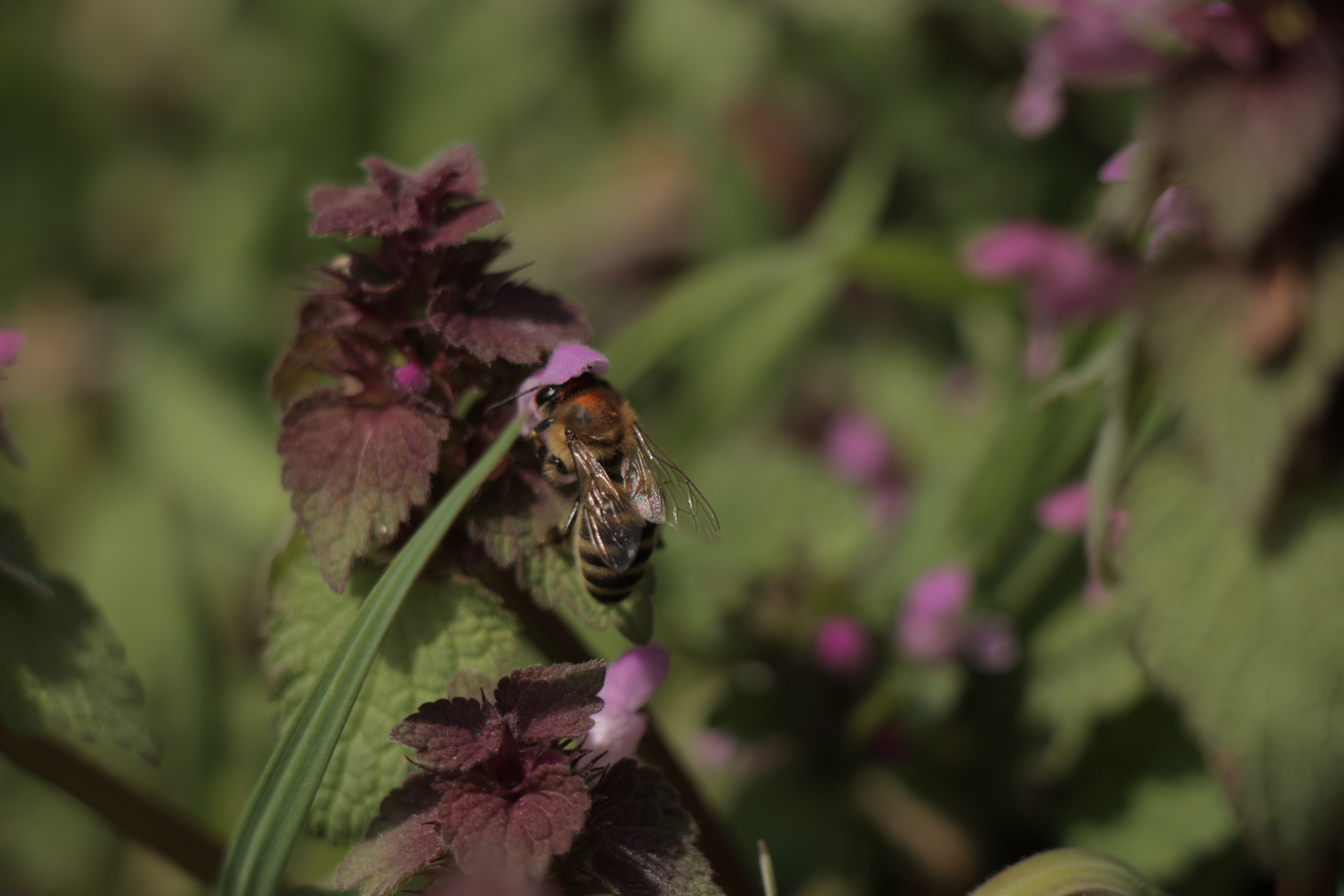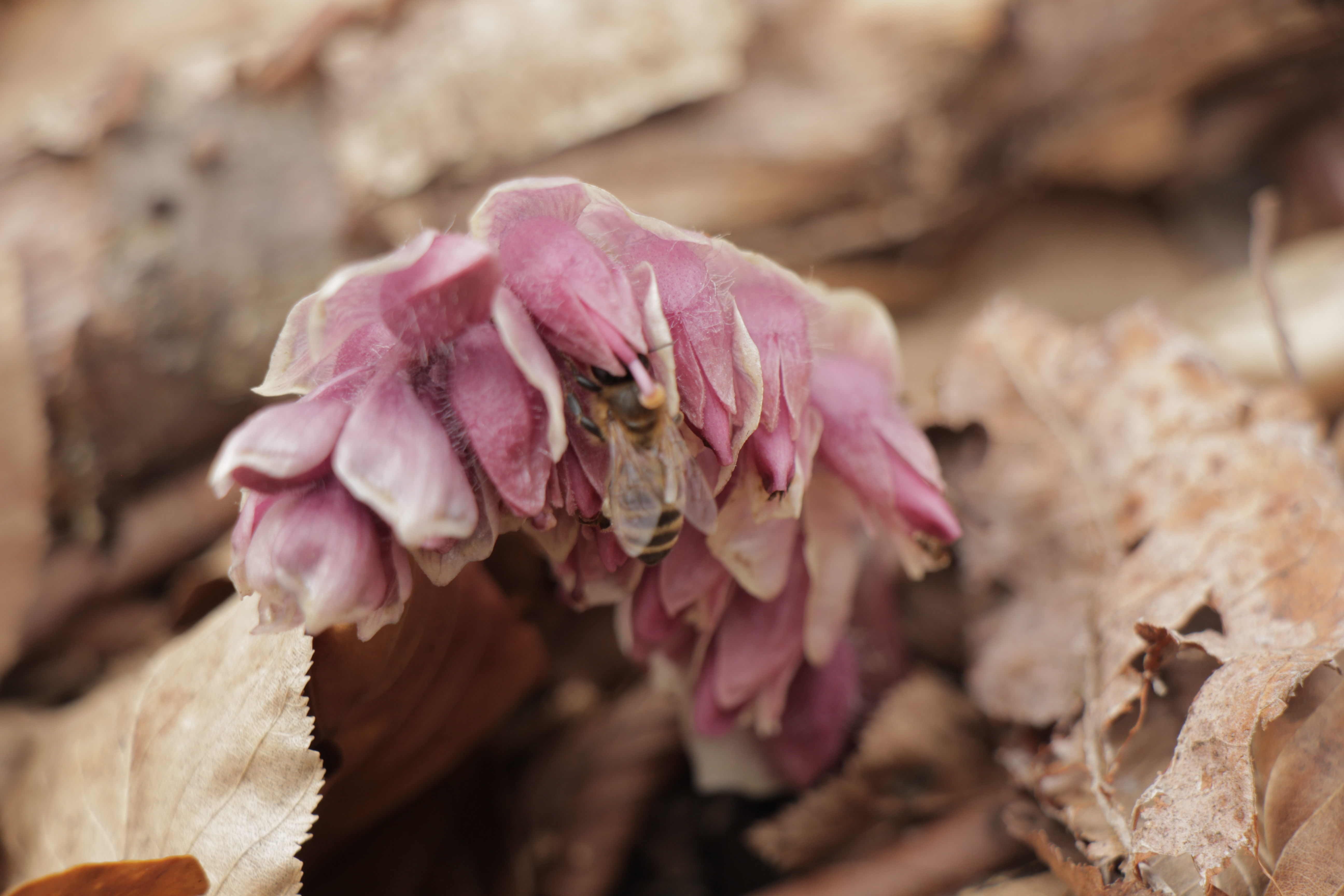 March 29th dawned brilliant and unseasonally warm. We took a long walk through the fields and forests. Mom and Azra hunted the forest for bear's garlic while I stalked the foraging bees. There was not much for the bees to find in bloom besides dead nettles, primroses, and wild violets. And this strange forest flower—can anyone name it? Raw and pink as flesh, the flowers emerge beneath the blanket of last year's leaves, as if they were shrouds. Arching low above the ground, the florets are hiding, though not from the bees.